R.I.P.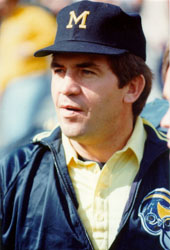 Legendary Michigan coach Bo Schembechler
passed away today
at the early age of 77. Schembechler compiled a 194-48-5 record at while coaching at Michigan from 1969-1989. He was also a seven-time Big Ten coach of the year.
This will probably spark a flame under the wolverine team. So i'm pickin' Michigan on Saturday. Who you got?